Palm oil is recommended for damaged, dry hair and the irritated scalp. It has strongly moisturising, smoothing and softening properties. It tames flyaways, smooths frizzy strands and delivers amazing softness, prevents hair damage, reinforces the bulbs and repairs split hair ends. Moreover, palm oil moisturises the scalp, fights dandruff and soothes irritation on the scalp. Feel free to use it if you plan on long sunbaths, have your hair coloured regularly or often heat-style your hair.
Do you know that some oils work the same way as palm oil? They bring excellent benefits when contained in hair and scalp products. Their action is intensified by hair growth substances and ingredients that make your hairdo look great. Just dare to try the following cosmetics and see it for yourself!
NANOIL FOR LOW POROSITY HAIR
Nanoil Hair Oil is intended for both hair and scalp care.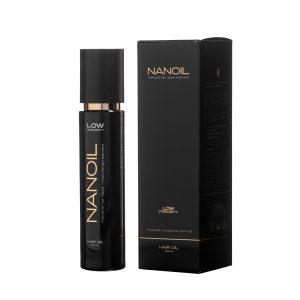 Interestingly, it can be used by women and men. It will work great if you add it to your hair masks. The cosmetic can be applied to dry and wet strands, before and after washing or before and after blow-dry routine. The ingredients are Babassu Oil, Coconut Oil, Shea Butter and Cupuacu Butter. Nanoil also contains oils that improve the condition of your hair and scalp: Argan Oil, Pine Oil, Castor Oil, Maracuja Oil and Monoi Oil. What are hair benefits of Nanoil Hair Oil?
creates an occlusive layer on the surface of the hair
protects from UV radiation, high and low temperature, dehydrating substances and other harmful factors
protects the scalp and hair from free radicals
fights off free radicals
slows down the ageing of the scalp and hair
reduces static and frizz
delivers silky smoothness and natural shine
hinders the signs of dandruff and relieves irritated scalp
prevents splitting of hair ends
has a lightweight consistency and does not weigh hair down
Shea butter, cupuacu butter, coconut oil and babassu oil have similar properties. You can use them separately but their action will be stronger when used together. Besides, if they are included in suitable proportions in one product, they will provide the hair and scalp with full care. What is more, other oils and substances contained in Nanoil will take care of the appearance and condition of your hairdo as effectively. The included vitamins and minerals deliver softness, shine and protection against harmful external factors.
KTC PALM OIL
KTC Palm Oil is designed for dry and distressed hair and irritated scalp.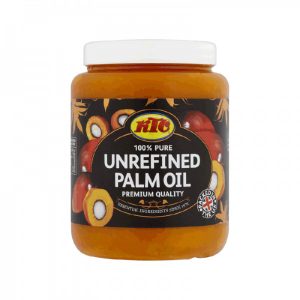 It contains vitamin E, antioxidants and coenzyme Q10. These ingredients improve the appearance and condition of the scalp. What are the properties of KTC Palm Oil?
slows down the ageing of the hair and scalp
rebuilds the cells of the epidermis thus reinforces hair bulbs
fights free radicals responsible for hair graying and scalp dehydration
strengthens the natural protective barrier of the scalp
deeply moisturises the hair, locking a proper amount of water inside the hair structure
soothes scalp irritation, works antiseptically
softens, adds gloss and smooths frizzy strands
helps to get rid of dandruff and other scalp conditions
How to use KTC Oil? Remember to warm it up in a water bath or between the palms. Next, rub the cosmetic into hair ends or from mid-lengths. After more or less 30 minutes, wash your hair thoroughly and blow-dry.
ALFAPARF LISSE DESIGN KERATIN THERAPY OIL
This oil works for hair that has undergone keratin smoothing treatment.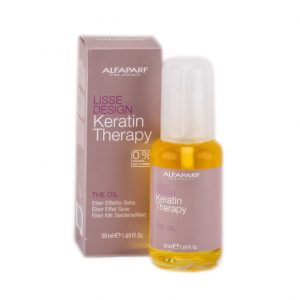 Thanks to babassu oil and keratin, the effect of straight hair is longer-lasting. The cosmetic can be even used by those who have a sensitive scalp. Alfaparf Lisse Design Keratin Therapy Oil is free of parabens, sulphates and mineral oils. What properties does it have?
prevents splitting hair ends;
reduces static and frizz;
has a lightweight consistency;
delivers softness and smoothness;
moisturises and nourishes the scalp;
adds shine;
provides easy styling and combing.
Using Alfaparf Lisse Design Keratin Therapy Oil is very easy. Apply a few drops of the cosmetic to hair lengths and tips. You don't need to rinse it out; let it get absorbed. One bottle holds 50 ml which is enough for a several-month treatment.
ORGANIX SHEA BUTTER SHAMPOO
Organix Shea Butter Shampoo thoroughly purifies your hair and scalp.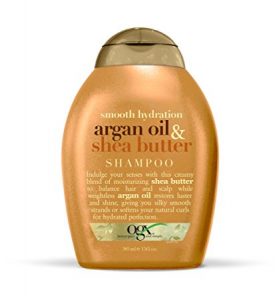 It comes in a 385 ml bottle. Such a large capacity is enough for a very long time. What scalp and hair benefits will you enjoy using the product?
you remove sebum, dandruff and other impurities from the scalp;
you smooth the strands and reduce static;
you increase shine;
you make combing easier and quicker;
you make your hair ends resistant to splitting;
you provide the strands with moisture.
How to use Organix Shea Butter Shampoo? Thin it with some water, massage into the scalp and hair. Remember to rinse the lather thoroughly, towel-dry and blow-dry the hair.